By Tarisha Beniprashad
For some, the wedding reception is the main event of all their wedding festivities, but we're strong believers that your ceremony should be the highlight. Vowing your love and life to your SO in front of your friends and family is a significant and beautiful affair, and should be decorated as such! Hiring a live musician or vocalist is a fantastic way to accentuate the elegance of your ceremony. We've compiled a list (you know us Whimlets love lists) of some live music options that we think would give your ceremony an extra flair! Keep on reading if you'd like some…
Live music options for your wedding ceremony!
Pianist
As long as there's a piano at your venue, it's tough to compete with this classic sound. There are
some incredible pianists in the GTA like Liz Craig who can play practically anything, making this a versatile option for any ceremony.
Harpist
If your venue's got the space to accommodate the instrument and you really want to up the elegance factor, a harpist is the way to go. Whether your harpist is an angel or not, we guarantee a harp will sound angelic at your ceremony! Joanna Jordan is a fantastic harpist based in Toronto, and would definitely emphasize the grandeur of your vows.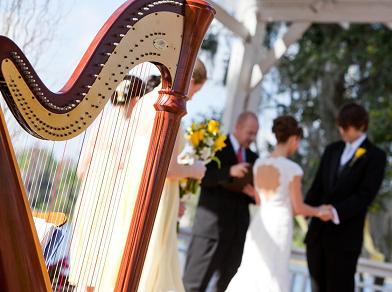 Violinist
A violinist is an ideal option for almost any wedding. Your violinist can play songs and adjust their sound to suit the tone of your ceremony, whether its a backyard affair, or a black tie event. We're big fans of Jill Daley's versatile sound.
Organist
Organs are usually hidden out of sight and most commonly found in churches, so you'll probably have a more formal ceremony if you're opting to have the sounds of the organ grace the ears of your guests before your ceremony. You can't go wrong with this traditional sound!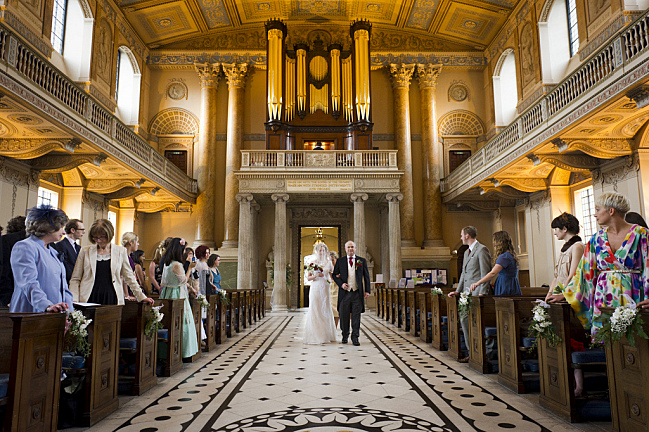 Vocalist
What's more romantic than walking towards your groom to the sweet lyrics of your special song? Nothing, that's what. Susan Dunstan is an amazing singer, and we're sure she'd moisten some eyes before you even walk down the aisle!
Ensemble
You probably won't opt for a full out wedding band for your ceremony, but a small ensemble or even a quartet would be a lovely option to orchestrate your processional. We're big fans of violin and cello duets; check out Walla Music for some heavenly ensembles, and samples of their work!
Band
Hiring a versatile band is another great option if you'd like to incorporate live music into your ceremony. From a graceful ceremony duo to a full dance band at your reception, groups like Brent Miller Live can entertain your guests throughout the days events! We had the privilege of hearing this band live at the 2016 WPIC kick off at The Forth, and we can personally assure you they've got an amazing sound!
This list ins't exhaustive, but we hope that we've helped you out a little when contemplating your options when it come to live music at your wedding ceremony. You can't go wrong with any of these sounds- any of them would be the perfect way to begin your happily ever after!
Leave us a comment and let us know what you think about live music at wedding ceremonies, and if you think we missed any interesting options!
xoxo,
The Whimlets
Whim Event Planning and Design is a team of Toronto wedding planners and day of coordinators specializing in modern romantic weddings for fun, sweet couples. Get in touch with us today to start planning your dream day!
Toronto Wedding Band
We'd like to introduce the
Ascension Groove Band
as the second addition to our featured vendors series! Working as a live wedding band for over a decade, this band offers a unique and experienced perspective on the wedding music industry. Keep reading to find out more:
1. How did you get into live wedding entertainment? What initially piqued your interest?
Ascension Groove Band is made up professional musicians. We have been together for more than twenty years. The band has played various venues locally and internationally. We primarily worked overseas a lot. It just takes one client to see you at a club and book you for a wedding and that's what happened. We still perform at clubs and casinos and also do corporate/private events. It is always a thrill to be part of someone's special day and provide lasting memories.
2. Tell us about your very first gig in wedding entertainment?
Our first wedding gig was more than 10 years.
3. If you weren't into live wedding entertainment, what would you be?
We can't imagine doing anything else but we all would still be involved in music. We have all harnessed our craft through school and performing over the years. Once in your system, you never leave music.
4. When you're not getting people moving on the dance floor, what could we find you doing?
We are always making sure everyone is having a good time and things are running smoothly. So when we are not on stage entertaining we are perhaps on a short break, having dinner while speeches taking place but we are constantly keeping track and in close contact with the planner if the client has one. My job primarily during breaks is to connect with the planner or if there is no planner I help with coordinating between the client and venue.
5. What's your absolute favourite thing about being a wedding band?
Being in a wedding band is fun!!! You perform a variety of genres, you meet interesting people and at the end of the day you were part of a special moment and it's quite an honour to be the entertainment that was chosen. It not only means something to the client but to us as well…you like what we do.

6. What's something you don't think many people know about creating what you do?
I don't think people realize the work put into preparing for a wedding. A band learns new repertoire, perhaps performing their first dance, coordinating and booking of musicians whether it's for the ceremony or the reception, organizing/arranging for sound and lighting etc.
7. What are some of your other passions (or hobbies)?
Besides music we are family type individuals. Our downtime is spent with family, sports, travelling and photography.
Are you a Toronto-based wedding vendor? We'd love to get to know you and feature you on our blog! Contact us today at [email protected] or click here to contact us!