By Tarisha Beniprashad
If you're a bride planning your wedding, we're sure you've been surprised by some of the quotes you received for bridal hair and makeup. And if you're not a bride currently planning her wedding… well, we're sure you've heard about the 'outrageous' prices. Surprise, surprise, just like most other things in the wedding industry, there are some not-so-obvious reasons behind these 'pricey' prices.
But worry not, The Whimlets were fortunate enough to have had the opportunity to speak with Toronto makeup artist Beauty by Sacha, and got the inside scoop on why bridal hair and makeup can seem so costly. If you'd like to find out why bridal hair and makeup is so expensive, just keep on reading!
Here is a small sample of some of Beauty by Sacha's work!
 Why is bridal hair and makeup so expensive?
Education
Getting certified to be a professional makeup artist is no simple feat. It means making sure you're able to work with different skin tones and types, as well as with a variety of features. Learning which looks and methods work with different faces takes an incredible about of time and experience. However, these skills comes as a perk to clients! By hiring a certified MUA, you can be sure that they'll only use techniques and products to flatter and enhance your natural beauty. Dedicated artists are also always perfecting their craft, and keeping up with the latest trends. Sacha, like many other MUA's, stays educated in her field by attending a number of seminars and workshops yearly to learn about new techniques.

Supplies
If you're a Sephora enthusiast like we are, you definitely know that a slayed face does NOT come cheap! Maintaining a professional hair and makeup kit that's suitable for a diverse collection of clients can get extremely pricey. Sacha values her personal kit at over $2500, and we're sure other MUA's can relate. Splurging on high-end products helps produce flawless looks, and ensures that the bride will stand out amongst everyone. You'll definitely want to be glowing, with all eyes on you!
Transportation
Most professional makeup artists provide an in-home service to their brides, and bridesmaids. However, like most things, this convenience comes at a cost. Travelling to client's homes contributes to the price that your MUA charges you, as they have to take into account the wear and tear of their vehicle, as well as the cost of gas.
Advertising
As an independent artist, it's important to stand out among the competition- it's up to them to attract new clients, and build their own client base. Maintaining a website and being able to network with other professionals and vendors in the industry can also be an added expense.
Is it really worth it to hire a professional artist?
What do we think? Yes! Of course! Nothing compares to the flawless work of a professional artist… have you seen the pictures of Sacha's clients!? If you need some more convincing, check out the testimonials on her website- her professionalism and incredible customer service have her clients raving! You definitely can't go wrong with hiring a professional MUA for your big day.
But I've found someone who can do it for cheaper than a professional artist…
This can be a tricky subject. It's important to hire somebody that you trust, and that whose skills you're confident in. As MUA Sacha pointed out to us, some artists are not certified, which can be a little problematic. Although there are many amazing self-taught artists out there, you want to make sure that your MUA is able to work with your skin tone and type, as well as with your unique features. Just because someone can apply makeup beautifully on themselves, doesn't mean they can do it on others. Another issue that you may run into with a more inexpensive, un-certified artist is the quality of their products. All in all, make sure that you're hiring someone that you can trust.
Tips when looking for a reputable MUA: Do they have any testimonials? Make sure to read them! Check out their portfolio of recent work, and ask for a trial- Sacha also recommends that you pay attention to their sanitary precautions!
As a bride, you've probably spent a ton of money, time, and effort planning your big day, and should look your best. You should be able to sit back, relax, and let your professional makeup artist enhance your natural beauty. After splurging on the flowers, decor, and your gown, it's hard to justify pinching pennies when it comes to hair and makeup. Considering that you'll be looking back at your pictures for the rest of your life, you'll want to hire an artist that'll help you look your absolute best!
We'd like to send a huge thank you to Beauty by Sacha for taking the time to speak with us about her industry. We are amazed by her talent, and encourage you to visit her website and Instagram to check out some of the amazing looks she's done!
Think we left out any important details? Leave us a comment below and let us know what you think about the price of bridal hair and makeup!
xoxo,
The Whimlets
Whim Event Planning and Design is a team of Toronto wedding planners and day of coordinators specializing in modern romantic weddings for fun, sweet couples. Get in touch with us today to start planning your dream day!
By Tarisha Beniprashad
For some, the wedding reception is the main event of all their wedding festivities, but we're strong believers that your ceremony should be the highlight. Vowing your love and life to your SO in front of your friends and family is a significant and beautiful affair, and should be decorated as such! Hiring a live musician or vocalist is a fantastic way to accentuate the elegance of your ceremony. We've compiled a list (you know us Whimlets love lists) of some live music options that we think would give your ceremony an extra flair! Keep on reading if you'd like some…
Live music options for your wedding ceremony!
Pianist
As long as there's a piano at your venue, it's tough to compete with this classic sound. There are
some incredible pianists in the GTA like Liz Craig who can play practically anything, making this a versatile option for any ceremony.
Harpist
If your venue's got the space to accommodate the instrument and you really want to up the elegance factor, a harpist is the way to go. Whether your harpist is an angel or not, we guarantee a harp will sound angelic at your ceremony! Joanna Jordan is a fantastic harpist based in Toronto, and would definitely emphasize the grandeur of your vows.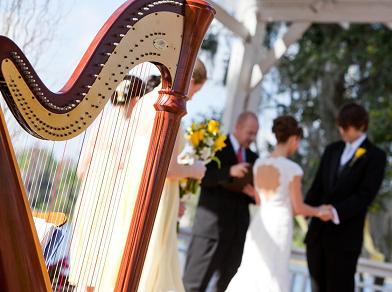 Violinist
A violinist is an ideal option for almost any wedding. Your violinist can play songs and adjust their sound to suit the tone of your ceremony, whether its a backyard affair, or a black tie event. We're big fans of Jill Daley's versatile sound.
Organist
Organs are usually hidden out of sight and most commonly found in churches, so you'll probably have a more formal ceremony if you're opting to have the sounds of the organ grace the ears of your guests before your ceremony. You can't go wrong with this traditional sound!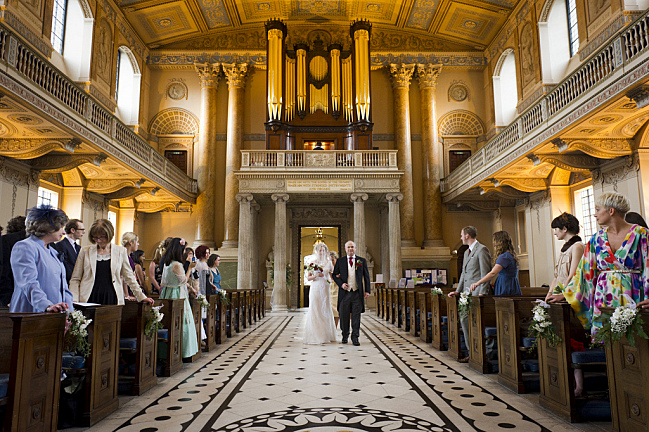 Vocalist
What's more romantic than walking towards your groom to the sweet lyrics of your special song? Nothing, that's what. Susan Dunstan is an amazing singer, and we're sure she'd moisten some eyes before you even walk down the aisle!
Ensemble
You probably won't opt for a full out wedding band for your ceremony, but a small ensemble or even a quartet would be a lovely option to orchestrate your processional. We're big fans of violin and cello duets; check out Walla Music for some heavenly ensembles, and samples of their work!
Band
Hiring a versatile band is another great option if you'd like to incorporate live music into your ceremony. From a graceful ceremony duo to a full dance band at your reception, groups like Brent Miller Live can entertain your guests throughout the days events! We had the privilege of hearing this band live at the 2016 WPIC kick off at The Forth, and we can personally assure you they've got an amazing sound!
This list ins't exhaustive, but we hope that we've helped you out a little when contemplating your options when it come to live music at your wedding ceremony. You can't go wrong with any of these sounds- any of them would be the perfect way to begin your happily ever after!
Leave us a comment and let us know what you think about live music at wedding ceremonies, and if you think we missed any interesting options!
xoxo,
The Whimlets
Whim Event Planning and Design is a team of Toronto wedding planners and day of coordinators specializing in modern romantic weddings for fun, sweet couples. Get in touch with us today to start planning your dream day!