The 2017 Spring and Fall bridal runways were full of plunging necklines, ruffled skirts, and stylish toppers to help brides beat the cold in a fabulous way. Designers didn't hold back when it came to creating some of the most jaw dropping 2017 wedding dresses for the season, and we loved every moment of it. Although not all of the avant-garde runways styles will be popular with 2017 brides, there were definitely some wearable styles that we're sure will make their way into bridal shops near you.
If you're looking for a little 2017 wedding dress inspo for your upcoming nuptials, then look no further. We've covered all the highlights and included all the styles you'll be likely to see in bridal boutiques this year!
2017 WEDDING DRESS TRENDS
Plunging Necklines
Surprised by this trend? We aren't. Modern and sexy brides looking to bare a little skin won't have to look too hard to find their perfect gown this year. Many 2017 wedding gowns feature a decolletage-baring neckline, and we aren't mad at it! Showing a little cleavage as you walk down the aisle is anything but taboo nowadays- and it looks uber fab, if we do say so ourselves.  
Off-The-Shoulder
This trend was so popular on the runway, you'll be able to to find almost any silhouette in an off-the-shoulder style. This is a great option if you're looking for a dress that'll allow you to show off a little skin, without the revealing cleavage of a plunging neckline. Display your bare decolletage with an off-the-shoulder-gown, or choose to accessorize with an eye-catching statement necklace!
Ruffled Skirts
Ruffled skirts have been quite popular with brides the past few years, but tiered skirts are reaching an entirely new level on 2017 wedding dresses. Cascading ruffles can be seen on boho chic gowns to the most formal of ball gowns. No matter what look you're going for, you can be sure that there's a ruffled dress for you!
Sleeves
Let's be real- long sleeved wedding gowns have been in style since Kate Middleton walked down the aisle in 2011. Whether you're a conservative bride who would rather cover up, or just someone who likes the look of a sleeved gown, you'll be glad to know that long sleeved wedding dresses won't be going out of style anytime soon. However, the sleeves you'll be seeing on 2017 wedding gowns are a little different. Designers like Isabella Armstrong and Rita Vinieris have taken inspiration from boho-chic trends off the ready-to-wear runway, and opted for billowy bishop sleeves on their gowns. Mildly reminiscent of the sleeves you probably saw on your mother's gown, this is a modern take on the dated trend.
3D Details
3D floral details and large oversized bows were prevalent on this year's runway. We anticipate that 2017 wedding dresses will be all about the details! Whether you're searching for a gown with small floral embellishments or a large oversized bow on the back of your dress for an added surprise, you'll be ecstatic to hear that designers like Carolina Herrera and Oscar de la Renta have got you covered!
Crop Tops
Drawing inspiration from the music festival style that's ravaged teens and young adults, we've seen a few delicate crop top 2017 wedding dress designs. You might be surprised to see how classy some of these pieces are, although some of them are suited for a younger, more playful bride.


Warm Toppers
Good news for brides who are planning a winter wedding! We know exactly why winter wedding are awesome, but there's one reason why they aren't- brides are often left out in the cold if they aren't fans of the limited options they have to choose from for stylish coverups. Luckily, more toppers were a big hit this year with designers creating fab bomber jackets, capelets, boleros and ponchos to compliment your gown perfectly.
Color
Pantone couldn't choose just one color of the year for 2017, and designers didn't either. Taking full advantage of the Pantone's choices of Rose Quartz and Serenity, there were more hints of color on the bridal runway than we're used to seeing. Both of these colors are extremely wearable for brides, and perfect for those who want to veer off the path of tradition just a little. Rose Quartz is a light blush tone, while Serenity if more of a cool baby blue. You can find dresses in these shades from major designers like Romona Keveza, Monique Lhuillier, and Hayley Paige, to name a few.
Accessories
Large statement earrings are bound to be one of the most trendy accessories for 2017 bridal looks. A ton of models have been spotted on the runway wearing oversized earrings to compliment their ravishing gowns, and we are absolutely obsessed with this trend. If you're a super glam bride looking to amp up the glitz factor of your bridal look, then look no further!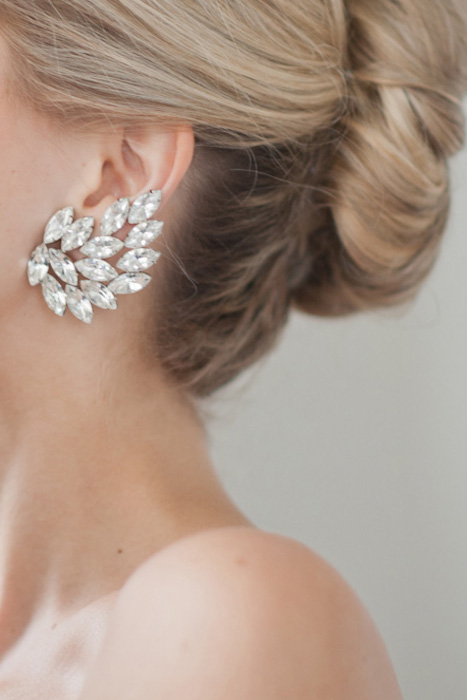 Have we left out any of your favorite 2017 wedding dresses or trends? Leave us a comment below and let us know which ones are your fave!
xoxo,
The Whimlets
Whim Event Planning and Design is a team of Toronto wedding planners and day of coordinators specializing in modern romantic weddings for fun, sweet couples. Get in touch with us today to start planning your dream day!
Wednesday, 11 January 2017
By Tarisha Beniprashad
Everyone knows the unspoken wedding guest etiquette that should be followed, but do you actually know all of the rules? There are the old favorites, like not wearing white to upstage the bride, but there are definitely a few more that you should abide by as a wedding guest. If you're unfamiliar with the proper wedding guest etiquette, don't you worry- you've come to the right place. We've compiled a list of a 5 key rules that we feel are the most important. Follow these tips, and we guarantee you'll be the best wedding guest ever!
WEDDING GUEST ETIQUETTE
Remember to RSVP… on time
Most couples pay their venues by the head, so the RSVP date isn't just a suggestion. The bride and groom need an accurate headcount in advance, so that they can make arrangements with their venue, as well as other vendors accordingly. On this note, remember to RSVP for the right amount of people! If your invitation is addressed to three people and you RSVP for two, make sure no more than two people show up.
What happens if you have a last minute emergency and can't make it? Sometimes these situations can't be avoided, so let your soon-to-be newlyweds know ASAP, and apologize for the short notice.
Don't bring uninvited guests
Unless your invitation specifically elicits that you're invited to bring a plus one, don't assume that it's okay to bring a date. Since couples are typically charged on a per guest basis by their venue, they've budgeted and made arrangements for the exact amount of guests they've invited. Bringing an uninvited guest can cause tension and create an awkward situation, especially if there's assigned seating.
Be punctual
Some individuals enjoy arriving fashionably late to events and making an entrance, but a wedding ceremony isn't a situation where that's appropriate. The couple invited you to share in the joining of their lives, and you should show your respect by arriving on time, and not making a disruptive entrance.  
Choose a gift from their registry
Couples spend a ton of time carefully curating their registry, and they pick items that they actually want. It's a good idea to stick to their registry or even a monetary gift, since you know it'll be something they'll actually use. This way, the couple isn't left with 15 different photo albums, and won't receive any duplicate presents.
Take your own pictures non-disruptively
The bride and groom pay a professional photographer to capture every important moment on their wedding day, and the last thing they need is for a guest to get in the way of them doing just that. We know it's tempting for guests to want to get some shots for their Instagram collage, and maybe a snap here and there for their Snapchat story, but let the photographer get their shots first. Trust us, you'll cause the photographer a lot less stress by waiting the few extra minutes, and the couple will be grateful for the beautiful shots they'll receive.
These are just a few simple guidelines that you may not have thought about as a wedding attendee, but trust us; follow them and you'll be everyone's favorite wedding guest! Do you have any pet peeves, or things you think guests should take into consideration when attending a wedding? Leave us a comment below and let us know!
XOXO,
The Whimlets
Whim Event Planning and Design is a team of Toronto wedding planners and day of coordinators specializing in modern romantic weddings for fun, sweet couples. Get in touch with us today to start planning your dream day!
Wednesday, 04 January 2017
We know you're probably super excited to have your little nephew stumble down the aisle as your ring bearer and have your fiance's niece follow as the adorable flower girl, but the truth is, they may not be as excited for your big day as you are. Once they've made it down the aisle and performed their duties, their biggest job will be sitting still the through the ceremony and keeping themselves entertained throughout the reception. We know you've worked hard to plan this beautiful day for you and your S.O., but you remember what it was like being 5, right? In their eyes, your wedding is just another family occasion where they've got to get dressed up and be (or at least try to be) on their best behaviour. However, the good news is that you can include a few little details to keep the little ones at your wedding entertained (and quiet)! If you're looking for some cute  ideas of how to entertain kids at your wedding, keep reading!
HOW TO ENTERTAIN KIDS AT YOUR WEDDING
Bubble Station

This is the perfect option for an outdoor ceremony or reception. Fill a juice dispenser with bubbles and have some cups and bubble wands nearby. Everyone loves bubbles, especially kids- we guarantee this will keep them busy for hours!
Kids Table
Having a kids table loaded with activities is a great way to distract little ones from hanging onto their parents, and will make them want to stay even later! Prepare one table by loading it baskets of fun supplies like crayons, coloring books, and puzzles. Nix the expensive linens and opt for butcher's paper instead. There's something satisfying about being able to write on the table, even as an adult- amirite?
I Spy
Set up your miniature guests to take part in the ultimate game of I Spy. The kiddies at your wedding will fawn over this game, and it's extremely simple to prepare. Just give them a list of things to keep an eye out for, and a disposable camera. Just make sure to only put things that can be found around your venue on their lists, so they don't stray too far!How to Entertain Kids at Your Wedding
Word Games
If you don't want to set-up a full fledged kids table, set a small pile of games likes crossword, word scrambles, and even some mad libs on each table.This will keep their little minds working away, and they'll be busy all through the speeches! How to Entertain Kids at Your Wedding
Glow Sticks
From our experience, adults will enjoy these as much as the children! Providing your guests, both young and old, with glow sticks as the dance floor opens up is sure to make everyone want to get out of their seat! Not to mention, you'll get some super fun reception pics.
Let them Toast
Kids always miss out on the fun of toasting at weddings. If we're completely honest, they probably won't get teary eyed at the sentiment of your speech, but at least they'll feel included! Providing kids with cookies and milk while adults toast with their flutes of wine and champagne is a super cute idea to keep them included in the festivities. How to Entertain Kids at Your Wedding
Have Kid-Friendly Favors
In addition to your normal favors, prepare some especially designed for the kids in attendance, and give it to them at the beginning of the night rather than the end. Stocking a bag or little basket with coloring books, crayons, puzzles, and fun little word games is a great way to keep them busy through the "boring" parts (they said it, not us!) of your wedding. How to Entertain Kids at Your Wedding
We hope that our little list can help you from doing the impossible- keep kids entertained at your wedding! If you have any other ideas to help keep the little ones content, leave us a comment below and let us know!
Whim Event Planning and Design is a team of Toronto wedding planners and day of coordinators specializing in modern romantic weddings for fun, sweet couples. Get in touch with us today to start planning your dream day!